What I hate most about backstabbers are....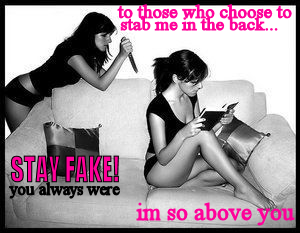 they love to stab you behind your back and act like nothing happen.
They are very clever, aren't they?.
tepuk tangan
....
It's way too long since I meet with this kind of 'rare' people
They are everywhere...
Be it in your workstation or in your friends group
they gigit, hentam you, kutuk, caci, tokok tambah cerita, pijak-pijak you and do all these behind your back. Dasyatkan????
Macam mana diaorang buatpun I tak tau. Ansangkarable betoi lah.
Anyhow...itu namanya lumrah hidup, you have to deal with it.
sama ada nak atau tidak.
.....
Enough...
What I want to share with all of u today...is about backstabber
how am I suppose to tell this
I hate backstabber i bet u do too....
and I've just realized it when its too late
saya telah ditikam dengan parah
..........
terima kasih buat teman yang kasi bocor itu rahsia....
since she told me, I feel numb and in shock!
I just found out 'orang itu' is saying bad things about me behind my back
tapi...depan saya, dia saaangat baik..sangat kupu-kupu sannnngat ikhlas.....
in this case, buying shoes is the best therapy for me...hehehehe
*__*
jika tidak....., berterus-terusan saya buat baik pada dia
apa yang dia mahu saya pinjamkan tanpa banyak cerita
sebab....kami kawan
...........
but how could she do this to me
saying bad things about me behind my back.
it is so no no no...
Should I still be her friend?
and now she asks for a favor
.....
tak nak layan, takmo cakap tak mo tolong!
huh.......
*saya akan jadi cenggini selama 1 bulan, lepas tu ok balik..*
-saya taip laju..laju..sebab mawrah!-
Me Naughty..me Netty